The Client Management Process is a methodology that involves creating a virtuous cycle of strategy formulation, measurement, and collaboration within a client-centric organization that when implemented in a disciplined manner should increase the financial performance of the firm and deepen relationships with key clients.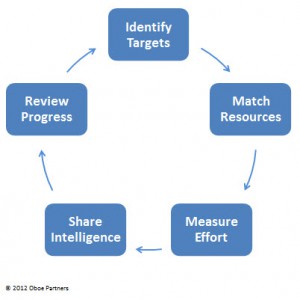 The process involves five steps: the identification of target clients, matching of resources to those clients, measurement of effort and return on that effort, collection and sharing of new intelligence, and lastly an evaluation of progress to determine if there needs to be adjustments to the target clients or resources. Each step has a series of tasks and deliverables assigned to different people. I'll describe each step in more detail.[more…]
Identify Targets
No one firm can target all clients in a given market and service them effectively. It's important to identify those clients that you feel are going to give you the best bang for the buck. Most good managers already do this in one form or another. This step is nothing new, but it's critical to keep it in the perspective of the overall process. We've seen many organizations where managers create lists of target or priority clients that should be given more attention, but there is little definition of what the service-level differences should be and very little discipline around how clients make it in or drop out of these lists. The criteria for identification of target clients should be clearly spelled out and communicated to everyone involved. The differentiation of service should also be clearly articulated so that there isn't confusion around how target clients are engaged relative to non-target clients.
Match Resources
Managers at this stage have to determine who from their team is best equipped to manage what target clients, and also identify other resources that need to be aligned against certain accounts in order to realize the accounts potential. It's important to look at this stage holistically. There may be areas that impact the client that are not fully apparent, such as operations or middle office. The purpose of this stage is to assign accountability.
Measure Effort
An organization needs to capture as much information as possible about their interactions with clients in order for this program to succeed. This includes transactions completed or not completed, calls, meetings, emails, and instant messages. Many firms have automated the capture of a lot of this information, by scraping phone lines and calendars for instance. Others firms require their staff to log information into systems, or in some cases lower-tech solutions like spreadsheets. What's important is to have the ability to benchmark effort and gauge whether the strategy is proving effective.
Share Intelligence
Probably one of the hardest things for professionals to do is to systematically share information about their clients and their work. Most people would probably rate information sharing within their organization as an important priority, but is probably the item that falls at the bottom of their to-do list. Information sharing should be institutionalized as much as possible in order to ensure compliance. Even a little bit of structure and certain explicit expectations go a long way in increasing collaboration. Information helps drive accountability and also helps escalate issues that may be severe if not addressed by the right people at the right time.
Review Progress
On a periodic basis, the strategy needs to be reviewed. Any conclusions from these periodic reviews should feed into the discussion around optimization of identified targets, starting the virtuous circle again. The additional knowledge and data about the account should make the opportunity more and more transparent over time.
It's important that the review process be both tactical and strategic. Account and performance reviews are key components, but an evaluation of the overall strategy is critical to ensure that new constraints haven't appeared or that new opportunities haven't opened up.