The last of the capabilities is the anchor that realizes the value of a clear client strategy: development of an integrated sales system built as a hub-and-spoke ecosystem where all critical elements of client information are brought together in a single Sales Portal. Without the right sales systems in place, the implementation of a client strategy becomes extremely burdensome, labor intensive, sub-optimal, and easy to abandon.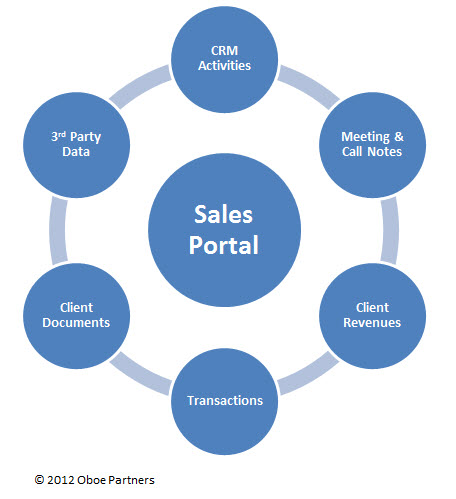 Client information should include CRM activity tracking, client meeting and call notes, client revenues, transactions, client documents, and any third-party data that can enrich a salesperson's understanding of the account (for broker-dealers, for example, survey data, market share data, fund performance, and securities holdings data would be invaluable).[more…]
Now, it's probably not practical to say that every single data system that houses client information can be brought together into a single platform. This would be a herculean task for any IT department with an existing complex array of systems, but by thinking about and reinforcing the idea that any work on sales systems should have the ultimate goal of providing better intelligence to salespeople and sales managers in a consolidated fashion.
Client Management should have significant input in, if not outright business ownership of sales system initiatives. This would guarantee that the systems are created with a client perspective. It would also help in informing the IT team what information exists and what would be important to prioritize. Because of the closeness of the Client Management team with the sales groups, they would be instrumental in designing the systems in order to best incorporate into the sales team's workflow. A big reason for the failure of many sales system initiatives is because many development teams make the assumption that salespeople will change their daily workflow in order to adopt a new technology. Regardless of how useful the new tools are, if they force salespeople reorganize day or forces them to perform new tasks that don't immediately provide them with a benefit, they will just not adopt them.
Three keys to successful sales system implementation are:
1) Integrate new technologies into existing workflows and systems so that interaction with new tools is seamless (for example integration of CRM functions into email application and mobile devices)
2) Attempt to bring as much disparate client information as possible into a single portal that requires just a few clicks to get from one type of information to another
3) Provide as much of a feedback loop, as immediate as possible, for any information that salespeople are asked to contribute into the system. They should be able, for instance, to run calendars or reports of activities logged into the system.